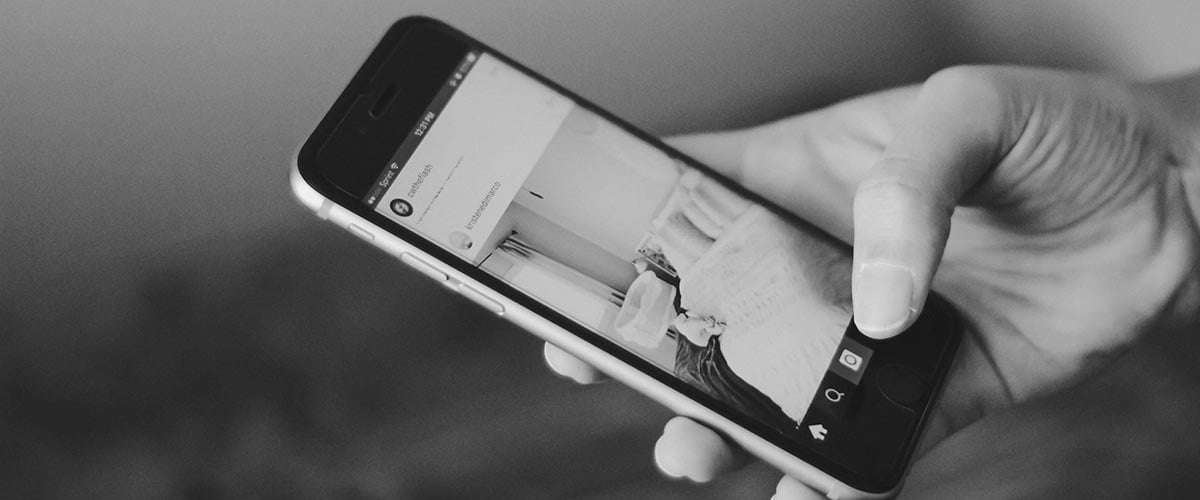 5G and NZ's Telco War: who will come out on top?
Ladies and gentlemen, the wait is over – commercial 5G has officially launched in New Zealand.
As of December 2019, 5G services are available at no extra cost to Vodafone customers with 5G-enabled phones in parts of Auckland, Wellington, Christchurch and Queenstown. Spark was the first New Zealand mobile operator to switch on
5G, offering services to a limited number of customers in Central Otago since September 2019.
Spark and Vodafone are New Zealand's two largest Telcos (followed by 2degrees and Skinny), and the competition between them is fierce. 5G is likely to play a large role in this battle for number one over the coming years – in fact, it looks like it may already be having an effect on market share, according to the latest Telcowatch report. We'll have a look at these changes further down in this article.
But first, for those of us that aren't fully across 5G, here's a refresher about what it is and why it's important.
What is 5G, and what could it mean for NZ?
5G is the next generation of cellular standards. You might think that 5G is going to be like 4G only faster – but it has the

potential to be way faster. Like, download a movie in seconds, fast. In areas where 5G architecture is fully set up, like Vodafone's store in Lambton Quay, Wellington, users are seeing download speeds of 500 megabits per second (compared to 16 megabits per second average on 4G). This ultra-high speed mobile broadband could revolutionise on-the-go communications and technology, bringing Fibre-level speeds to cellular devices – but it's not going to be a quick, easy or cheap process.
First of all, 5G signals can only travel short distances and often get blocked by things like walls and buildings, so just using the existing infrastructure from 4G won't work (at least in the long run). In order to get 5G up and running for the entirety of New Zealand, every base cell station – of which there are about a dozen per hectare – will need to be updated and made 5G-compatible first, and this will likely be at least a few years and a few hundred million dollars away. Not to mention, 5G is only available for those who have specifically 5G-enabled handsets, of which there are currently only two types available in New Zealand (both from Samsung and $1400+).
Though 5G has technically launched, the general public is far away from seeing the lightning fast mobile speeds that are making international news at the moment. However, there have been a number of interesting use cases for the technology proposed by Kiwi organisations - this includes the NZ Police, who want to use 5G to enable faster transmission of drone and police car data to command centres in emergency situations.
"5G technology will really help us keep New Zealanders safe," explains Police CIO Rob Cochrane in an interview with the NZ Herald. "While drone footage over a 4G connection is useful, with a 5G network connection the quality improves dramatically meaning we can scan the environment allowing a faster response to keep the community safe."
Beyond this, 5G's real-time capabilities are set to revolutionise the artificial intelligence and IoT (Internet of Things) spheres. The ultra-fast broadband will make communications between sensors and devices much quicker and less data-intensive, making IoT applications more accessible, efficient and cheaper to run. This will be especially important in the development of self-driving cars, as 5G will enable the devices to communicate much more quickly with one another, thus making the roads safer for everyone. While IoT as a concept hasn't yet become as widely accepted by the masses in NZ as it is in other countries, a number of innovative Kiwi organisations are developing solutions in this space.

Which NZ Telco is going to pave the way for 5G?
The jury is still out on this one. Spark was technically the first NZ Telco to switch on 5G, but Vodafone has been the first to roll it out commercially. 2degrees, NZ's third largest mobile operator, is keen to get in the game but has been hindered thus far by its key technologic partnership with Huawei (which is under major government scrutiny at the moment).
While it's still unclear who will be the leader of the Telco pack in the 5G race, what we do know is that this new technology is going to have (and already appears to be having) an impact on the industry and on mobile operator market share.
Telcowatch: Vodafone pulls ahead of Spark in the final quarter of 2019
The last three months of 2019 saw Vodafone's actual market share increase to 36%, while Spark's dropped down to 35% – this means Vodafone is currently New Zealand's majority market share holder for the Telco industry. This change comes after six full months (between April and October 2019) of the two mobile operators both maintaining around 36% market share of active devices.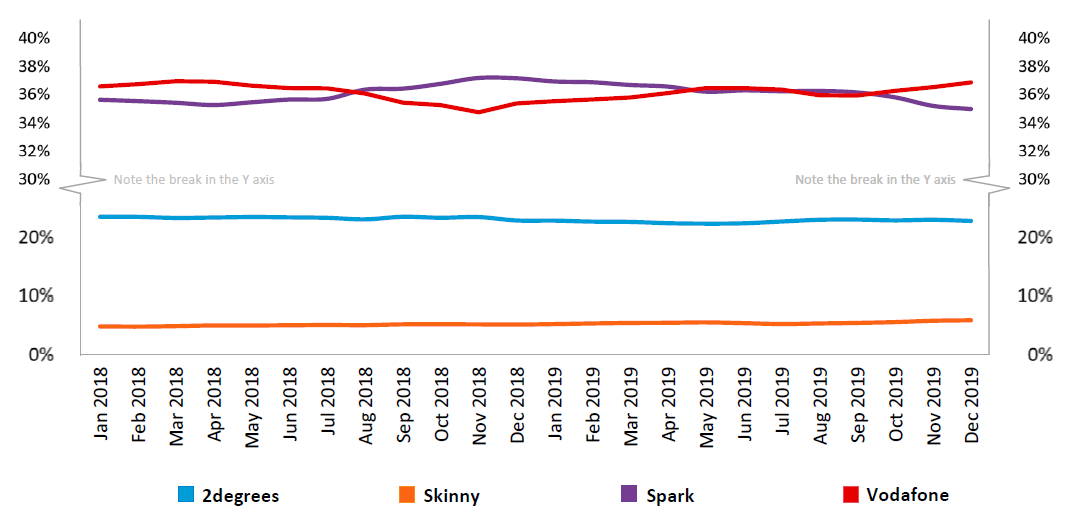 This information comes from the Q4 2019 release of Datamine's Telcowatch report, New Zealand's most reliable view of mobile operator market share, with a 0.5% margin of error at a 95% confidence level. The freely available report offers unbiased insights into the monthly and quarterly performance of Vodafone, Skinny, Spark and 2degrees. Subscribers will receive the report on a quarterly basis, but each version provides a monthly, quarterly and yearly view of market share change – including graphs, commentary and insights.

The data for Telcowatch comes from our partner Modica Group, whose cloud-based messaging platform sends hundreds of millions of SMS messages to their enterprise clients (such as banks, government entities and supermarkets) every year. Because each of the messages sent to a unique handheld device through Modica's platform must go through that device's mobile carrier, we can see how many of devices 'belong' to each provider, offering a reliable indication of market share.
Datamine Founder Paul O'Connor believes that this type of advanced analytics and data commercialisation is the future of market share reporting.
"By using AI and advanced analytics to analyse market share, you can significantly reduce the biases and anomalies often found in other reporting methods," he explains. "With Telcowatch, and in other similar projects, we've found this to be a reliable and accurate way to get the best possible picture of the market."
---
Over the next decade, 5G is set to revolutionise the different ways in which New Zealanders communicate via technology, and the major Telcos will each have a role to play. Keep an eye out for the quarterly Telcowatch releases to see how the market changes as 5G evolves, and get in touch with us if you've got any questions about the report.