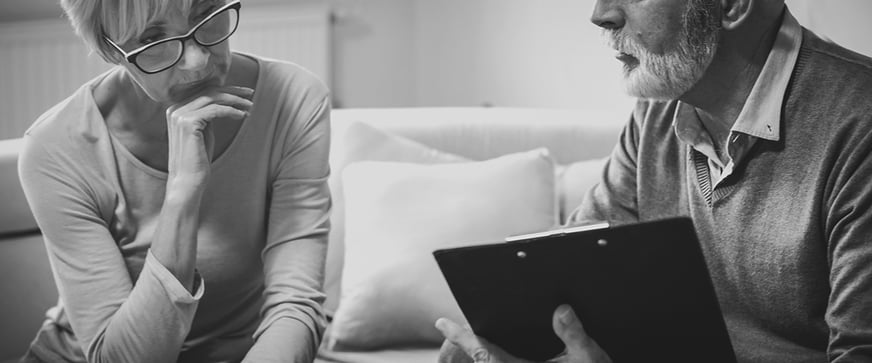 Insurers: Reach the right customers (and make them love you!)
Insurance has historically been a tough industry when it comes to marketing and customer satisfaction. There used to be very few touchpoints with the customer – when someone took out a policy with you, they all but disappeared (sometimes even for years!) until it came time to claim. And as anyone who has ever been robbed, or crashed their car, or had an accident (not to mention any insurer who has interacted with said people) will know, this isn't the ideal time to begin the customer relationship.

Today, however, insurers are becoming more data-driven. They're creating increasingly more touchpoints with their policy-holders that strengthen the relationship and make the claims process easier for everyone. For example, many insurers now have health and wellbeing apps, or publish thought leadership content, or offer premium discounts based on good health or driving behaviour – all of which serve to increase the number of quality interactions and trust built with the customer.
Data analytics plays a massive role in the insurance customer journey. Here is a walk-through of that journey and the different analytical solutions that can optimise it along the way, helping you find quality customers and keep them coming back for more.
---
1. Determine who your customers really are through a single customer view
Before you grit your teeth in frustration, don't worry. We know this is a fraught area in which many insurers have struggled, both internally and with vendors, but the good news is that it doesn't have to be a utopia that's always just out of reach. We've helped clients break the back of a single customer view project in 90 days – here's how.
Firstly, rather than focusing on your systems integration (which might literally take 3+ years to fully complete), focus on

your data integration. This is a significantly quicker process than a systems integration, yet it's sufficient to get a single customer view up and running. Second, you need to make sure you have a highly focused use case and are approaching the project in a lean manner – what is it you want to do with the single customer view? Understand customers across brands or divisions? Or maybe identify cross-sell opportunities?
Insurance is becoming more and more a 'needs first' industry, so having a highly specific use case will enable you to understand the needs of your customers, then match your products to those needs. It's a smart, digitally-led approach to customer engagement.
2. Understand your customers through profiling
A single customer view will bring together data in disparate systems, and a subsequent profiling or segmentation project will help you understand your customers and what drives them. Here are some examples of gold nuggets you can learn about your customers:
Their demographics such as socio economic status
The media channels they use
What kinds of things they do and don't like
Their attitude towards insurance
Their value to your business
Their risk of churning
Profiling and segmentation projects can be used to essentially put a face to an insurer's customer base and any key groups or personas within that base. The more you know about your customers, the easier it is to look after them and keep them happy through targeted marketing strategies and initiatives.
3. Analyse media effectiveness to reach customers through the right channel
Once you know who your customers are and what they want, you need to figure out how best to reach them. With the constantly changing media landscape, it's important for insurance companies to ensure they're not wasting money on a medium that isn't reaching their target audience - remember, it's not about reaching the most people, it's about reaching the right ones. Many insurers are digging into their media and advertising data to determine which campaigns are

working (and which aren't). Through this exercise, we've seen a number of insurers cut their marketing budget by 5-10% while maintaining the same degree of media effectiveness. It's simple - stop wasting spend in channels that don't work and shift it to channels that push the needle in a measurable and objective way, bringing you the right customers rather than the wrong ones.
4. Personalise marketing to get the greatest ROI from marketing spend
Customers, both existing and prospective, have come to expect personalised communications – 87% of marketers claim that personalised relationships with customers have led to more interactions and higher website traffic, according to a 2018 study from Researchscape International. Where the trouble lies for insurers, though, is that they've got multiple different types of communications going out – there are operational comms (policy confirmations, policy changes etc.) that legally need to go out, and then there are marketing comms that also need to go out. In many cases, these two types of communications are coming from different systems, so it's a struggle to ensure that the look, feel, content and scheduling are consistent from a branding perspective. Marketing automation is a useful way to productionise and streamline the communications process so that customers receive personalised, timely and relevant messages that are more likely to appeal to them.
5. Anticipate future customer demand with a next best offer model
How do you know when to upsell a customer on a better insurance plan? Or what might be the right plan or product to try and sell them? Or simply what the next conversation with them should be? If you use the 'spray and pray' approach, your marketing dollars might be completely wasted on customers that either don't want or simply aren't ready for whatever action it is you want them to take.
A number of insurers have begun using AI and Machine Learning solutions, like next best offer and cross sell models, to better predict their customers' likely future needs and engage to serve these. These models run on historical

customer behavioural and demographic data, as well as information around products and services customers use and how uptake occurs over time. Once the model has been used to target particular customers with particular offers, that data can be fed back into it to enable continually improved predictions. Next best offer models make your customer's lives easier – they don't get spammed with offers they don't want, but rather get hand delivered the offers they do want, streamlining their journey and improving the experience along the way.
6. Optimise your call centre to improve the customer experience
Very rarely do people enjoy phoning up an organisation's call centre, knowing full well there will likely be hold times and (potentially) a surly customer service representative on the other end. Customer service is a massive component of overall policy-holder satisfaction, so making the contact process as comfortable as possible is a great starting point. There are a number of different challenges analytics can be used to solve relating to insurance call centres, depending on what the objectives are – do you want to better match operator to customer, based on the value of the customer and the experience or knowledge of the operator? Or identify bottlenecks that are causing inefficiencies and long wait times? Or simply analyse the performance of your call centre employees to figure out who is seeing the most successes (and hire people more like them)?

7. Analyse your NPS score to measure and improve customer satisfaction
The NPS score was initially developed by Harvard Business School as frontline way to pick up on failed service deliveries. Now used by businesses all over the globe, it's been shoehorned into being the overall score of customer satisfaction. Yes, NPS is a good indicator of how much your customers like you, but what insurers need to do is actually tie their score into business performance. As your NPS score goes up or down, is there a correlation to customer churn, or customers buying new products, or overall customer acquisition?
In the numerous NPS projects Datamine has done, we've found that there's almost no correlation between movements in NPS and those performance indicators - except in a few key processes, such as insurance claims. The process of claiming is the moment of truth for customers. If you disappoint someone when they phone the call centre, it usually won't have a big impact – but disappoint them when they really need you, and they're significantly more likely to leave. Determining what these significant touchpoints are for your business is crucial. Datamine can help you analyse what your NPS scores actually means to your GWP, your churn rates, the number of policies per customer and more. There are strong ties between your staff and business processes and overall customer satisfaction – finding out what really matters most to policy-holders helps you focus on optimising those areas.
---
Customer behaviour and expectations are shifting, and the insurance industry is keeping pace – the above solutions are a handful of the many ways in which businesses are changing the historical rhetoric around insurance and customer centricity. Download the Datamine Guide to Customer Insight below, or get in touch with our team to learn more about the different solutions we offer insurers.