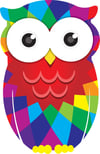 Presented by Child Cancer Foundation, The Haier Big Hoot 2018 is a Wild in Art interactive event where 47 owl statues, designed by kiwi artists along with 60 owlets, designed by schools in the Auckland region, will be displayed throughout the city from Saturday 3 March - Sunday 6 May. The owls are sponsored by various New Zealand organisations, and, considering members of our client services team are known internally as 'Owls' for their wisdom, quick-wit and intelligence, Datamine has decided to get in on the action.
When we saw our owl's design, we knew we had to create an equally awesome persona for it - without further ado, we'd like to introduce you to Ada Owl.
Did you know that an owl's skeleton makes up only 7-9% of its body weight? The bones are light yet strong, protecting the bird but allowing it to fly with ease. Similarly, Ada Owl (our not-so-feathered friend) is a light-hearted yet fiercely intelligent character whose strength lies in her ability to help get others off the ground in their search for answers to life's most analytical questions.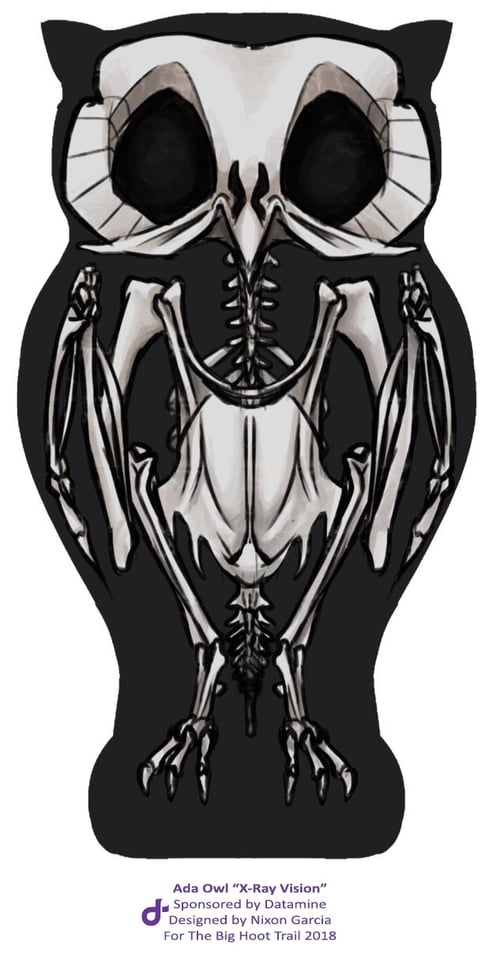 Named after Ada Lovelace, the first person to ever publish a computer algorithm, Ada Owl is a unique combination of wildly creative and intensely analytical - and she's obsessed with all things data. A bit of a programmer herself, Ada uses owlgorithms and anowlytics to X-ray deep into the heart of technical problems in order to understand how to solve them.
Due to her hyper-intelligence and data-driven approach to life (not to mention her skeletal appearance), she's often misunderstood or seen as intimidating, but she's working to turn that impression on its head. The world is going to become more and more data-driven (Ada Owl can feel it in her bones) and she wants to help others gain X-ray vision and insights into their valuable data.
But don't just take our word for it - let Ada explain her passion for analytics herself.
"Before you lose interest, don't worry: I'm not here to bore you with any childish or cliched owl characteristics. In fact , I like to think that I am an exception to that 'all-knowing' owl stereotype. No matter how much stuff you know, there's always more to learn - especially in the world of analytics.
Want to know the coolest thing about data? Even the most raw dataset tells a story. Sure, it might look like just a bunch of numbers, but hidden within those numbers are tons of insights that can help individuals and companies solve otherwise insurmountable problems. Like many of the team at Datamine, I consider myself to be both a people-bird and a bone-a fide nerd, so this combination of quantitative and qualitative knowledge really floats my boat.
These past few months, I've been working with Datamine to help awesome organisations, like the Child Cancer Foundation, see what valuable - and potentially life-saving - insights are locked up in their data. We've made some pretty amazing discoveries, which makes all the hard analytics work worth the effort.
As of early March, I'll be hanging around in the Viaduct with some other owl mates for the Big Hoot 2018, so swing by and say hi (I've been told my glow-in-the-dark bones are even cooler in person).
Make sure to stay tuned to next month's newsletter to hear about the exciting results of Datamine's work with the Child Cancer Foundation, and I hope to see you in the Viaduct!"
To learn more about Datamine's involvement in the Big Hoot 2018, please get in touch with a member of our team today.
We have setup a Give A Little fundraising page in support of the Child Cancer Foundation. If you would like to join us in donating to this incredibly worthwhile charity please click here.