How to Use Market Share Results to Drive Your Strategy
Get ahead of the competition and discover new business opportunities
In today's fast-paced business landscape, knowing how you compare to your competitors can be difficult. However, keeping track of what other businesses in your sector are doing well is essential knowledge to gain an edge on the rest of your competing market. Getting hold of this knowledge and an in-depth level of insight can be challenging for businesses with limited access to external data. This can all be unlocked using our market share benchmarking service.
Market share benchmarking is a solution that helps you further understand how your business is performing in the market. It's a great way to stay aware of what is happening in your chosen competing markets and take action when opportunities arise.
---
Evaluating market share benchmarking
Market share benchmarking displays what percentage of the market a business takes up versus its competitor groups. With this solution, companies have a say in what their markets are, so they can measure themselves against the competitor groups they want. That allows organisations to get an overview of their market performance, track changes over time, and see how that compares to competitors.
What the output looks like depends entirely on each business's insight needs and preferences. Whether you want a broad overview of the national market or require a highly granular view to track data in all your branches, there is no one-size-fits-all approach to building a market share benchmarking platform.
---
What you can get out of using market share data
Businesses have access to a large amount of insight through market share benchmarking, which offers a world of benefits. Here are some of the key advantages of implementing a market share benchmarking solution:
Have the ability to know what is going on around you
Even if your business is growing, it only covers part of the picture if you rely solely on internal data. Your company might have increased its revenue by 10% in the last year. However, if the overall market has risen by 15% or 20% in the same period, there was an opportunity there for you to gain an even more significant revenue increase. How your company stacks up against your competitors in a changing market makes benchmarking performance critical.
Knowing where your company sits in the market brings more significant scope to review and streamline how you run your business.
understand

the competition
Your competitors will likely be in the same boat as you – relying on internal company data with minimal access to external insights. Therefore, businesses implementing a market share benchmarking platform can establish a unique, competitive edge.
A comprehensive view of the market share means you can see how much of the overall category market each competitor group takes up, which you can track over time. Getting more thorough insights into your competitors' successes through customer spending data is game-changing information for optimising your business strategy.
More than just one-upping everyone else in the market, understanding who you are competing against allows you to see what marketing campaigns and strategies are working well for competitors and act accordingly.
More is more when it comes to possibilities
Most businesses do not have access to the kind of information used to build Datamine's market share solutions. Tapping into the insights, otherwise unavailable to internal data analysis teams, opens up more opportunities for your business. It saves time and money, sheds light on what strategies and goals can be set for your business, and helps clarify the path to achieving them.
A fully bespoke solution
There is no one-size-fits-all approach to implementing a market share benchmarking solution. Every business is different; therefore, the only way to get the most out of your market share data is to have a customised service built for your business.
One of the most important factors to consider when creating your bespoke service is the level of granularity in the information your business requires. Perhaps your stakeholders only need a broad overview of the data – an example of this might look like a display of the national market share.
Or, taking the time to build a market share service that displays the information at a highly granular level might make more sense for your business. In this case, the solution can break down data by more precise factors like region and demographics.
---
Steps required to create a bespoke Market Share solution
Define your competitor groups
A collaborative process to design your view of the market
Online and in-store categories
Establish desired regional granularity
National, regional, and bespoke territory areas
Choose delivery frequency
Annual, quarterly, monthly, weekly, daily
Decide on a deliverable
Consider applying a customer lens
Demographics
Customer segmentation
---
Stay on top of your market share
Suppose you need to figure out how your business is tracking and are wondering how your business sits in comparison to the rest of the market. Knowing the impact of recent and ongoing campaigns can also be difficult without looking externally. If you are asking these questions, you would probably benefit from a market share solution.
With market share benchmarking, businesses can get an overview of their performance and improve their insight into the opportunities available on the market. It is a great way to enhance your overall business strategy and optimise where to spend business efforts.
To discuss how we can build an entirely bespoke market share benchmarking service for your business, contact the Datamine team. Or fill out the form linked below to get a free sample market share report.
---
Get a free sample market share report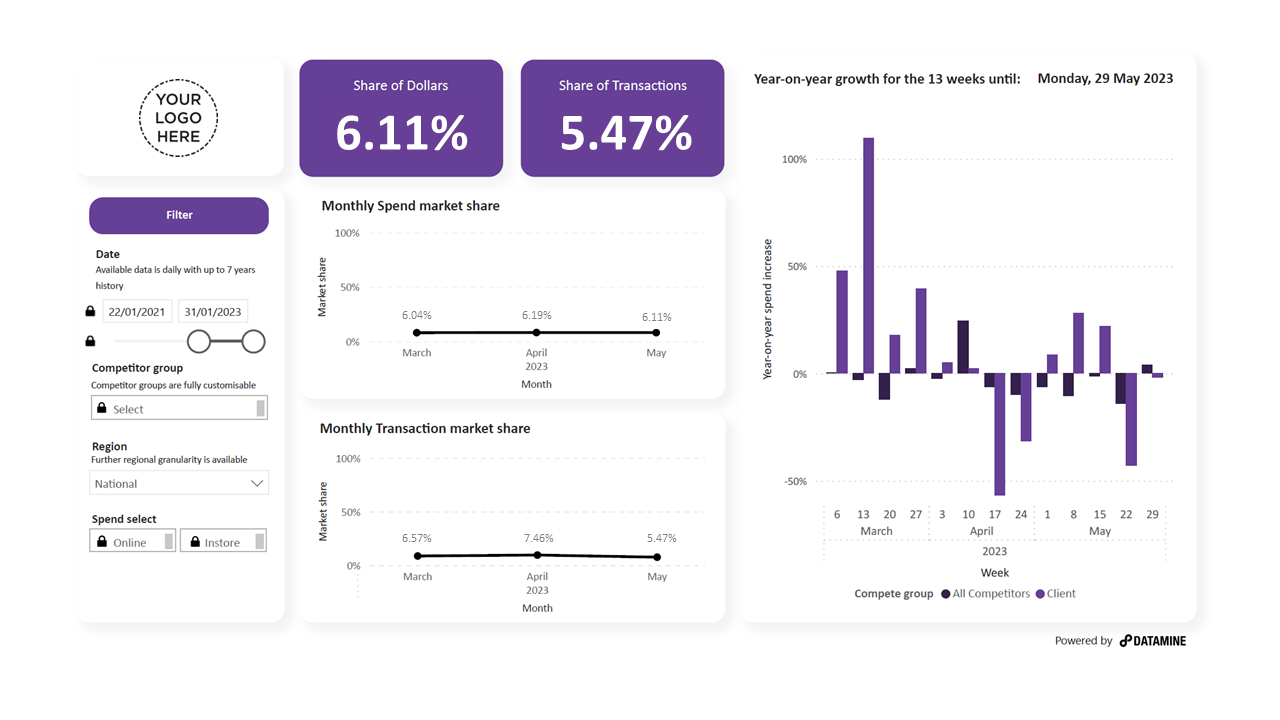 Datamine market share report generator
To get started on your Market Share Benchmarking journey, fill out the form below to request a free sample report for your business.