Where would you find 40,000 IT, Technology and Marketing people from all over the world gathered together in a single room? Probably Las Vegas - for the 2018 Global IBM Think conference, a four-day event focusing on the Cloud, AI, customer engagement, IoT, data & analytics and much more.
Andy Marsden, Datamine's very own Marketing Technologist, was there this year to focus on Customer Engagement - not only to get the latest trends, insights and best practices, but also to present a customer story with Air New Zealand. Without further ado, here are some of Andy's takeaways from the conference.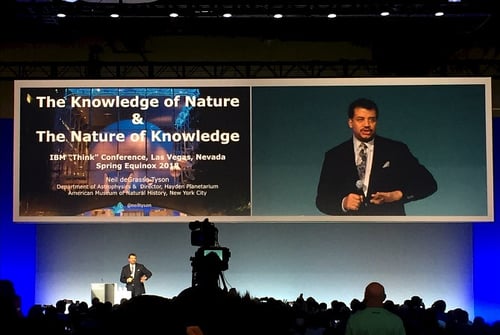 What is coming, and what is already here?
Listening to keynote speakers is always interesting, and IBM Think this year was no exception (Neil deGrasse Tyson's presentation on the Knowledge of Nature and the Nature of Knowledge was one of my highlights of the decade). It was fascinating hearing leaders who own and drive businesses of scale, such as IBM, Verizon, Hertz and Ticketmaster, talk about what they are doing and where their strategy is going to take them.
But for me, it has always been the roadmap sessions and customer success stories that have the most value. These smaller sessions allow for a more personalised view, as well as access to other people who are on the same business journey as you.
This year there was a lot of focus on customer experience, ranging from the identification of struggle on your app/website through to leveraging behavioural data to serve communications that are relevant and timely to your consumer. The next phase of this journey (which, by the way, is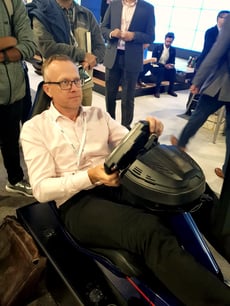 becoming increasingly prevalent and feasible) is utilising the cognitive technologies that advise and enable users to go deeper and move faster in their understanding of customer behaviours and delivery of personalised marketing.
Getting your hands dirty
Think 2018 had so many delegates, sessions and hands-on labs where attendees could put what they'd been learning into action. This, for me, was where the real opportunity lay - we were able to get out there and listen to customers talking about their trials, struggles, and successes. I also attended a few guided hands-on sessions where I had a play with applications ranging from customer experience and user struggle through to email deliverability and MDM solutions.
I also got to play with some...less marketing-related toys, like the RedBull Formula 1 simulator (pictured to the left)
Andy's picks
It's safe to say that I learned a lot at Think 2018 - here are the points I'll leave you with: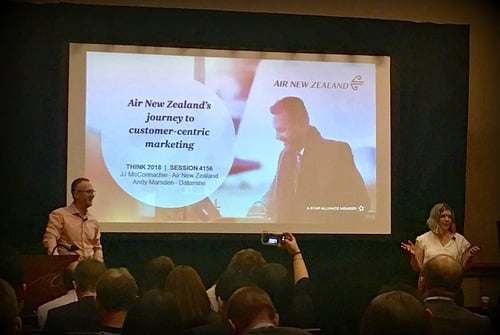 Marketing automation solutions are getting smarter, simpler and more scalable. Those who achieve success leverage these solutions and a support partner well

Customer experience and struggle on your website and mobile app will be the key differentiator between you and your competitors

Cognitive marketing assistants will help the already stretched marketing team improve and deliver

Email and SMS are not dead, but you need to be smart about how you use these tools within your onmi-channel experience

You walk a lot at a Las Vegas conference (I covered 63.8km in 4 days this year)

Collect business cards (yes, they still exist) and chat to people doing what you do. We are all trying to achieve the same things, and people in non-competing geographies and industries are surprisingly amenable to sharing knowledge to help you out
There is a lot out there that can drive your business performance forward. Get in touch with me using the link below to learn more about how Datamine could help you improve your business' marketing strategy.