IBM THINK 2018 - WHAT YOU NEED TO KNOW

Datamine's Marketing Technologist, Andy Marsden, is heading to Las Vegas this month for IBM Think 2018. There, he'll be presenting with Air New Zealand and attending a number of the other presentations given by influential thought leaders in technology from around the world.
Our marketing team recently sat down with Andy to get a bit of insight into the conference and his presentation - here is a quick synopsis of our chat.
Marketing: "So, Andy - what exactly is IBM think 2018?"
Andy: "IBM Think is the global IBM customer and business partner conference, and it's held in Las Vegas because nowhere else is big enough. In essence, it's a showcase of the industry and customer success stories, as well as a sort of vision of what the future holds. I was lucky enough to attend the event in 2017, and I'm really excited to go again, as it seems to get better every year.
On a more specific level, this conference is Datamine's chance to show what we can do - to interact with global experts, to learn new solutions. Not to mention to hear speeches from amazing thought leaders, like Neil deGrasse Tyson and Dr. D.J. Patil, the former U.S. Chief Data Scientist. It's a pretty cool opportunity."
Marketing: "Sounds awesome. So what will you be presenting at the conference?"
Andy: "It's my privilege to be presenting with Air New Zealand on our partnership and their journey towards customer-centric marketing. We're going to talk about a lot of different things, including the challenges, successes and opportunities they have faced and overcome."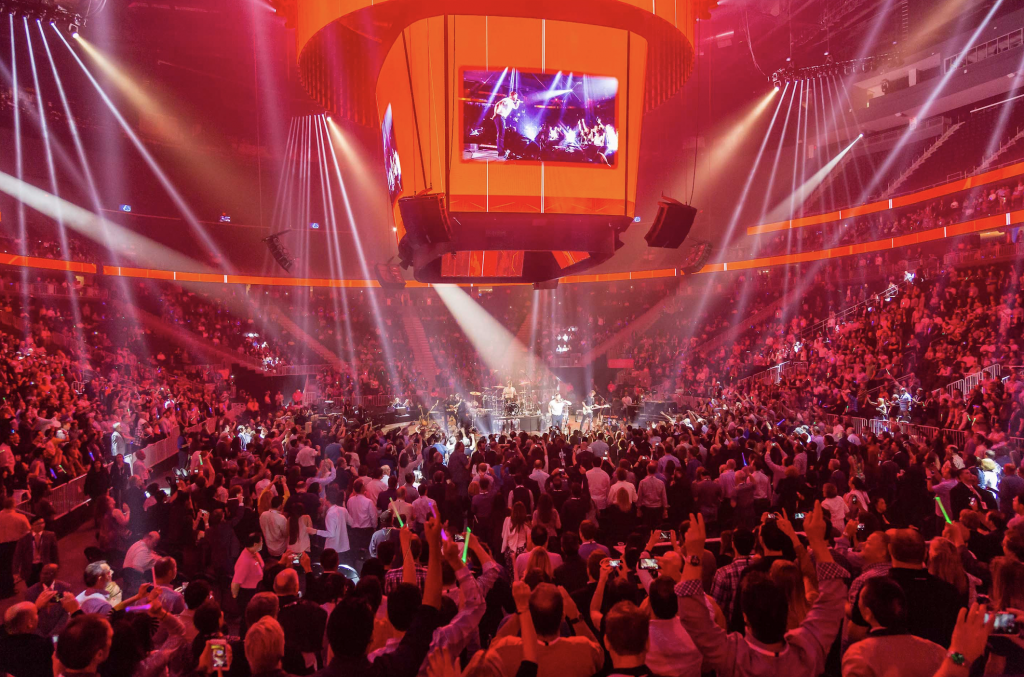 One of the performances from 2017's conference
Marketing: "What other presentations are you most excited to see?"
Andy: "It's tough to choose! I am super excited to listen to the keynotes from IBM, NASA and American Airlines. But I think I personally get the most value from the smaller success stories, like Lloyds Bank 'building a cognitive bank' and Adidas 'global Omni-channel' marketing. I also really enjoy the hands-on sessions and interactive workshops.
It also isn't all seminars, either - the Bare Naked Ladies and Chainsmokers are performing, so it's the perfect combination of business and fun."
Marketing: "Wish we could go. What value would you say IBM Think can offer business professionals?"
Andy: "Well, it is (of course) a big commitment for a business to send someone to Think, however, there's a lot you can get out of the event. Firstly, you get to hear from industry leaders. Second, you get to learn from major businesses that have achieved what your company might be looking to do. Third, I've found that IBM is more than happy to arrange meetings with product owners and other attendees from across the globe.
I think overall, though, it's perhaps just talking to people in the same industry - sharing stories and advice and making contacts - that adds the most value."
Stay tuned to hear Andy's take on the event later this month, and in the meantime have a listen to IBM's Chief Marketing Officer explain what Think 2018 is all about in the video below: